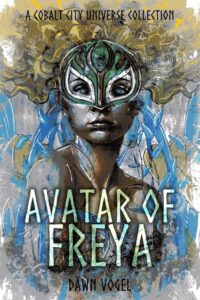 I'm putting together the first of my 2022 short story collections, which means it's time for a cover reveal! Avatar of Freya will collect four stories about Friday Jones, aka Dulcamara, a Cobalt City hero who is an avatar of the Norse goddess Freya. She's got some awesome plant-related powers and a variety of other young heroes helping her protect the city.
The cover is by Luke Spooner, aka Carrion House, and he's once again knocked it out of the park based on my descriptions and direction!
Avatar of Freya is slated for a March release in ebook only. I'll have a pre-order link for it next month!