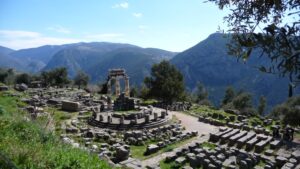 I've loved Greek mythology since I was a kid, and I was fascinated by the idea of the Oracle at Delphi, both in a mythological sense (speaking prophecy from the Gods!) and in a scientific sense that explains the "vapors" present there. But with a nod to the mythological sense, I wrote "Breathe Deep" as an alternate explanation of the Oracle at Delphi's power and origin.
This story was interesting to write as I tried to add in some epithets in the style of Homer to make the feel of the language mirror that of tales from Greek antiquity. Just a handful of those, to me, went a long way to really make this story work as I wanted it to.
"Breathe Deep" can be found in Old Legends and New Fables, and it's one of my few stories that might not be appropriate for all ages. The story has references to two characters engaging in sexual acts, though because of the Homeric-style epithets, you may have to read between the lines. But it's definitely one I would recommend an adult reading before you give it to a younger person to read, to determine if it's appropriate for them.