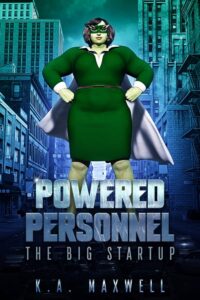 Powered Personnel: The Big Startup by K. A. Maxwell (2021) is an interesting look at how the corporate world might look when it's controlled by people with super powers.
The book centers on Chloe Ceres, recently hired by a major corporation to start a new department, along with her best friend, Melinda. The two women had worked together previously as the Market Mavens, a superhero duo. But Chloe wants to leave that past behind her and move forward with her future. Unfortunately for her, it can't be as easy as getting what she wants, and she and Melinda are called upon by circumstances to once again save the day.
Not only is this book an interesting exploration of a world with super powers, it also delves into issues of inequality when it comes to people with massive amounts of power, both in a literal and figurative sense. The book alternates between Chloe and Melinda's POV, with occasional POVs from other characters. There's a lot going on in this book, and it requires many POVs to get the whole story. There are a ton of alien species and characters, too, which can be a little difficult to track at times.
If you've pondered the logistics of a world in which superheroes are real, and how that impacts the common man, or if you like stories with a lot of imaginative worldbuilding, you may enjoy Powered Personnel: The Big Startup.
The author provided me with a copy of this book for review consideration.