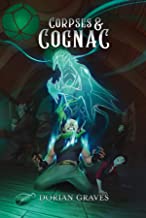 Corpses and Cognac (2021) is Dorian Graves' second book in the Deadly Drinks series, an urban fantasy series in a similar vein to Supernatural but so much better! I read and reviewed the first book in the series, Bones and Bourbon, when that book came out, and so I was excited to take a look at the second book in the series.
Diving into a series after having not read the first book for three years meant I needed to catch up a little bit as I recalled the characters and the events of the previous book, but once I got myself into the right headspace, I was ready to follow more adventures of brothers Jarrod and Retz Gallows and their companions. This time around, they're dealing with vengeful spirits, powerful Fae, and minotaurs, all while still juggling their own problems–like staying alive and keeping the world intact.
The problems that the brothers face in Corpses and Cognac have escalated since the first book, and based on a few loose ends left at the end of this book, their problems are only going to get bigger in the future. What's nice about Graves' writing, though, is that they present the brothers with this increased problems and stakes, but they don't allow the brothers' powers to get out of hand–Retz and Jarrod are making major sacrifices as they work their way through the things being thrown at them.
The narrative continues to alternate between the perspectives of the two brothers, which felt smoother in this book than it did in Bones and Bourbon. Without giving away too much, there's also a bonus perspective toward the end of the book that I didn't anticipate, but utterly loved how it fit into the flow of the story!
Corpses and Cognac also continues in the trend of Bones and Bourbon with positive queer representation and careful consideration of how that colors the characters' world views and choices. Once again, I recommend this book and series for people tired of straight white men as the protagonists of urban fantasy series, whether in print or on television.
The author provided me with a free copy of this novel in exchange for review consideration.