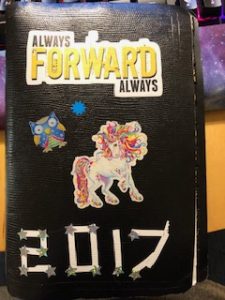 Some recent house cleaning unearthed a couple of my old planner books, which of course led to me flipping through them and seeing how my planner book use has changed over the years.
In 2017, I made detailed lists at the beginning of the week that listed what I planned to get done that week, and then I checked them off each week, in addition to noting when I'd worked on each thing during the week. I also tracked approximate weekly word counts for the novels I was writing. My 2018 planner book reflects similar patterns, with less focus on the weekly word count.
In 2019, I gradually moved away from a written planning list at the beginning of the week, but I still noted what I completed on any given day. Instead of the weekly lists, everything was on post-it tabs that could be moved around as needed, but didn't leave much of a permanent record once they were moved from one date to another. I also started using my planner book to note when I'd had a noteworthy event–turning in large projects and noting when stories had sold.
Many people joked about the uselessness of a 2020 planner, but I continued using mine through all of last year, both to note what I'd done and also my noteworthy events (primarily sales). A lot of my post-it tabs scooted farther and farther out as the year went on, but I still was able to note getting things done and good things that happened in a very strange year.
This year, I made my own planner with a lined notebook, mainly because I couldn't find a planner in the style I liked. I'm continuing to note what I work on and when I make sales.
And everything, always, is accompanied by stickers (as it has been since I started using planner books), because I think even adults deserve to commemorate things by giving themselves stickers, just like our teachers might have done when we were younger.
If you use a planner book, do you have any tips or tricks that work really well for you that you can share? Leave a comment if you do!