The Dragon Stone Conspiracy: A Strowlers Novel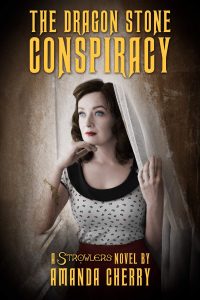 by Amanda Cherry (Zombie Orpheus Entertainment, 2021) is a tie-in novel to the Strowlers urban fantasy series from the creators of The Gamers. Set during World War II, this novel features action, adventure, and fighting against Nazis and the Third Reich, coupled with magic, fae, and a mysterious artifact.
Pepper Jones, in possession of a magical artifact, has been forced to flee the United States and hide in Ireland. But even in the idyllic small Irish town where she has come to reside, danger finds her, sending her on a quest to stop the Third Reich from harnessing the power of a mysterious artifact. Along the way, she learns more about her own artifact and the magical world, while evading pursuers and others who think she should be stopped.
Though I'm not familiar with Strowlers beyond the basic concept, this tie-in novel is accessible to fans and non-fans alike. There are terms and concepts from the Strowlers world that a casual reader might not immediately identify, but the story does a wonderful job of incorporating those aspects without making the casual reader feel as though they're in over their head. The writing is fun and fast-paced, making this a very quick read! The World War II setting is meticulously researched, and the attention to detail will delight fans of history, but it also remains accessible to the non-historian!
The Dragon Stone Conspiracy will be available February 9, 2021.
The author provided me with a copy of this book in exchange for review consideration.