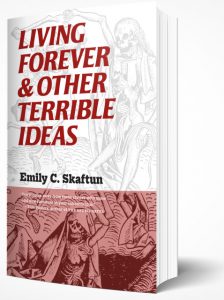 Emily C. Skaftun's Living Forever & Other Terrible Ideas (Fairwood Press, 2020) is a collection of 18 of her short stories, which range from hilarious to heartbreaking. It's a lovely mix of previously published and brand new stories, all dazzling in their prose.
One trend that her modern fantasy stories, and some of the sci-fi stories, have in common is that they present a world that is slightly different from the one we know, and yet her unusual touches all seem to blend in seamlessly with our reality. There are apocalypses of various shades with surreal causes, but somehow, they all seem completely reasonable within the contexts of the stories. Particular favorites of mine were "The Thing with the Helmets" for roller derby girls taking on an alien invasion, and "Apology for Fish-Dude" for a wonderful retelling of "The Fisherman and His Wife."  But I also enjoyed the darkness of "Oneirotoxicity" and the shared universe and characters of "Frozen Head #2,390" and "Only the Messenger." But every story in this book is a lovely gem, and I enjoyed all of them for different reasons.
If you like surreal speculative fiction that feels completely reasonable even in its surreality, check out Living Forever & Other Terrible Ideas. It will be out in November, but you can pre-order it now to have something to look forward to!
The author provided me with an advance copy of this book for review consideration.