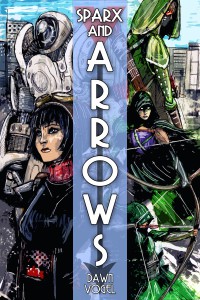 The majority of my Cobalt City writing has revolved around Kara Sparx, inventor extraordinaire, and various incarnations of the Huntsman. And most of those stories can be found in Sparx and Arrows, which I published in 2016.
In 2019, I've got more in the works, first dealing with Gray Dawn, a sonic-based hero with a career as a pop star. One of her stories led to a crossover with some Cerulean City heroes, and I'm working on a couple of stories set in that city to round out a second collection.
In addition, I'm planning to start work on my first Cobalt City novel this year, which will bring back one of the incarnations of the Huntsman, Sarah Castile, as she embarks on her career as a spy in Hollywood. This one is going to necessitate a whole lot of research, but I'm looking forward to that, of course!