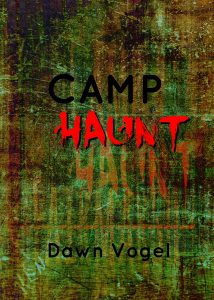 If you're looking for something creepy to read on Halloween, have you considered Camp Haunt? It's one of the creepier things I've written, an epistolary serial of a haunted summer camp. Here's the description:
Camp Fairmarsh, founded in 1883, has a long tradition of giving teenage girls a residential camp experience. Girls spend eight weeks swimming, canoeing, horseback riding, making arts and crafts, hiking, and more. They leave camp with experiences and friendships that last a lifetime.
But for the girls who came to Camp Fairmarsh in 2003, the camp had more in store. Read their letters home, their diary entries, newspaper articles, and other camp documentation that chronicle the bizarre occurrences that summer. Find out why Camp Fairmarsh is Camp Haunt.
Camp Haunt is only available with a subscription on Channillo, but the good news is that the entire novel is already posted, so the only thing slowing you down is how quickly you want to read it!