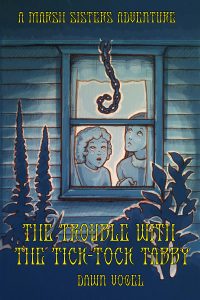 When I first published The Trouble with the Tick-Tock Tabby, I did my own cover. Unfortunately, that wasn't the best plan, as it didn't look good when I got a proof copy of the print book. So I made a plan to have an artist re-do the cover later.
That's finally happened. The inestimable Leigh Legler has knocked it out of the park with their illustration for The Trouble with the Tick-Tock Tabby, staying true to my original cover design but improving upon it immeasurably. And with a little layout assistance from my wonderful hubbie, Jeremy Zimmerman, The Trouble with the Tick-Tock Tabby is now in print!
This book was written for middle grade readers, and while more and more kids have smart devices that would let them read ebooks, I think having paperback copies of this book will be fantastic for getting it more widely read by its intended audience. I'll have copies of the book at GeekGirlCon this weekend, and I am always happy to sign books, including with dedications if you want to pick one (or more) up for friends or family members!