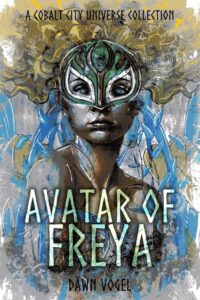 Have you checked out Avatar of Freya yet? It's a collection of four fun Cobalt City Universe stories featuring Friday Jones and friends!
It's an honor to be chosen as the avatar of a god, raised to the ranks of superheroes in Cobalt City by their patronage. But for Friday Jones, a fun-loving biochemistry major working to solve world hunger, it's more of a burden than she expected. Follow Friday, aka Dulcamara, and her friends through four stories of the Cobalt City Universe, as she deals with a clone of her bestie, a literal dragon, a roommate too smart for anyone's good, and a seriously rude customer.
Avatar of Freya is available as an ebook for only 99 cents!