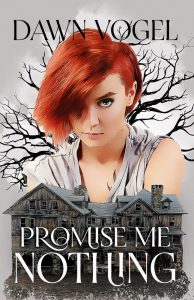 I'm excited to share that my novel Promise Me Nothing is part of the SFWA "Magic Awakens" StoryBundle, available from today through April 28th! This is a great opportunity to get four books (including mine) at a "pay what you want" price (minimum $5). If you pay $20 or more, you unlock 10 (!) bonus books!
In case you've missed what Promise Me Nothing is all about, here's the blurb:
Supernatural Reform School or Horrifying Death Trap?
Dedwydd Academy is meant to be a third chance for Briar Williams, exiled from the fae realm of Idyll for her part in a rebellion against the aristocracy and removed from human society for a night of mayhem in the small town of Artis. Upon arrival, she begins to make friends, but she also finds a dangerous enemy in the volatile Jaylin. Now she must navigate a new level of high school politics, one with deadly consequences. And what will her new friends think when they learn about what she's done?
Promise Me Nothing is a young adult contemporary fantasy book, fun for teens and adults!