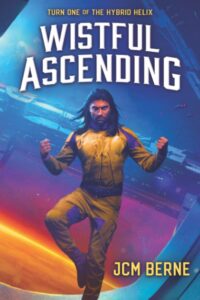 Wistful Ascending, the first book in the Hybrid Helix series by JCM Berne (The Gnost House, 2020), is an action-packed sci-fi/superhero novel with a fantastic cast of characters and plenty of plot twists to keep you guessing!
Rohan is a Hybrid, the offspring of a human and an alien race called the il'Drach. That alien part of his parentage gives him Powers, making him stronger, tougher, faster, and so much more than a normal human. But he doesn't want to be the warrior of the il'Drach Empire that his father would like him to be. Instead, he prefers a simple life, using his Powers to help the sentient space station, Wistful, and the ships that wish to dock there. But his life seems to attract complications, as one thing after another conspires to make that simple life anything but. There's a ship full of alien bears, a beautiful woman who lives nearby (and has a firecracker of a son), and an old friend from Earth, all of whom bring their own baggage that winds up heaped on Rohan as well.
The pacing of Wistful Ascending is quick and the plotting is excitingly complex, but the real stars of the novel are the characters. Every character stands out, even those with less camera time than the main character and those closest to him. They've all got just as many hopes and dreams as Rohan, and are all working to realize them, sometimes with Rohan's help and sometimes independent of him. It made the novel delightful to read, knowing that anyone who appeared on the page would be more than just a cardboard cutout of a character.
If you enjoy superheroes with a LOT of power (on the level of Captain Marvel or Superman), mixed with a bit of space opera, and great characterizations, you'll enjoy Wistful Ascending!
The author provided me with a copy of this book for review consideration.