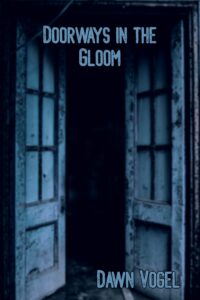 My next collection, Doorways in the Gloom is now available for pre-order! This collection contains short stories, flash fiction, and poetry with a darker vibe. Some of the stories approach horror, while others are just slightly spooky.
Doorways can lead to many marvelous places. In this collection, however, the scenes they reveal are shrouded in gloom and darkness. See where the doorways take you in flash fiction, poetry, and two short stories at the darker end of the spectrum.
This book is the first I've published that contains content notes (sometimes called content warnings or trigger warning) because of the subject matter. Nearly all of the stories touch on or feature death and/or blood, but specific stories have other content notes of potentially troubling material. If you are interested in this book but are concerned about the content, I am happy to answer questions in advance of the release about specific content notes (or even send you the whole list for all the stories and poems!).
Doorways in the Gloom will be out on April 12, 2022!