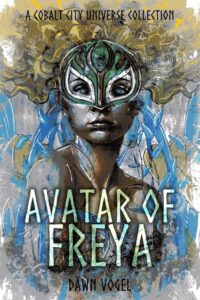 Today's the day! Avatar of Freya is now live! If you pre-ordered it (THANK YOU!), you should already have it on your device. If not, you can grab a copy for yourself here!
It's an honor to be chosen as the avatar of a god, raised to the ranks of superheroes in Cobalt City by their patronage. But for Friday Jones, a fun-loving biochemistry major working to solve world hunger, it's more of a burden than she expected. Follow Friday, aka Dulcamara, and her friends through four stories of the Cobalt City Universe, as she deals with a clone of her bestie, a literal dragon, a roommate too smart for anyone's good, and a seriously rude customer.
Avatar of Freya is part of the Cobalt City shared universe, but even if you haven't read stories set in that universe before, you'll be able to understand these stories. The stories are appropriate for teens and up!