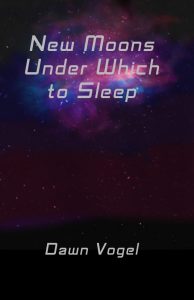 If you're a sci-fi fan, I've got one sci-fi collection that might appeal to you! New Moons Under Which to Sleep contains mainly previously published sci-fi short stories, flash fiction pieces, and a couple of poems, plus a couple of poems that were new to the collection.
I've had a bunch of other very short sci-fi pieces come out recently that might also interest you!
"The Fall of Ocrone" in Martian Magazine (August 2021) is a drabble (only 100 words) in a sci-fi setting. It's so short it's hard to summarize, so you'll just have to read it and see!
"Vantablack" is a flash-fiction story in 99 Tiny Terrors (October 2021), which involves exploration of an unknown planet as black as the story's name.
"When Science and the Gods Fail" is a microfiction piece in New Maps (November 2021) with a robot protagonist trying to solve a problem.
My story "The Shell Game" in Haven Speculative (November 2021) is a heist involving interplanetary travel and a fashionista.
"First Rights," a flash-fiction piece published in Utopia Science Fiction (December 2021), is a salvage operation and queer romance rekindling all in one.
"Seeds of Knowledge" in Theme of Absence (December 2021) is a microfiction piece about deciphering alien language.
Finally, "Good to the Last Drop" is a microfiction piece in The Antihumanist (January 2022) about the lengths someone might go to have coffee in space.