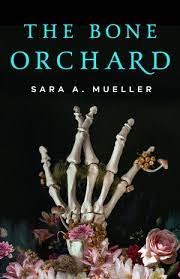 The Bone Orchard by Sara A. Mueller (Tor Books, 2022) is a ornate and lovely Gothic tale of intrigue, mystery, and lasting trauma. With a fantastical premise and world, the gorgeous prose will keep you glued to this book all the way through.
The book revolves around Charm, the Emperor's mistress and proprietress of a specialized gentlemen's club where patrons can purchase the services of her "girls," their bodies crafted from bones from the trees in the orchard and a special growth technique. When the Emperor falls ill unexpectedly, he asks Charm to find his murderer while on his deathbed. She takes up his mission, even as it causes difficulties to her directly and to her through her "girls," especially as the narrative explores how Charm and her "girls" are connected to one another. Throughout, there's plenty of betrayal and surprises.
The book blends a sort of secondary world fantasy setting with technological advances that make some portions feel a bit more science-fiction. But these aspects fit together well without stretching plausibility, in a sort of magic-tech hybrid. The characters are the biggest stars here, with each one filled with details and personality aplenty, even those who barely appear on the page.
I'd recommend this book to folks who enjoy Gothic stories, as well as those who like high fantasy and Baroque space opera, as I think it would appeal to all of these readers. I think those who have enjoyed Dune or Crimson Peak and the more over the top aspects of Jupiter Ascending might also find plenty to love in this book. The Bone Orchard will be out on March 22, 2022.
The author provided me with an advance copy of this book in exchange for review consideration.