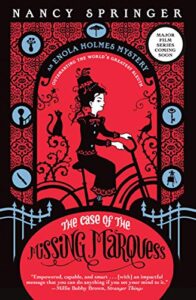 The Case of the Missing Marquess is the first book in the Enola Holmes series by Nancy Springer (Penguin Young Readers Group, 2007), which was the inspiration for the Enola Holmes movie on Netflix in 2020. And while the basic premise between this middle grade book and the movie is similar, there are also distinct differences between the novel and the film.
The essential premise is that Sherlock and Mycroft Holmes have a much younger sister named Enola, who has been living with their widowed mother on their ancestral estate. When their mother disappears, Enola is extremely concerned, and her brothers become concerned when they realize how she has been raised by their now missing mother. But while the brothers want to rectify their sister's situation, Enola is primarily concerned with finding their mother. As she proceeds to investigate, she gets involved in another missing person's case that she stumbles across.
While the movie portrayed Enola's mother as eccentric, it also portrayed her imparting cleverness and useful life lessons to Enola, whereas the book makes her seem much more distant and uninvolved with Enola's life. Her brothers, too, are little more than sketches in the book, while they have much bigger personalities and roles in the movie. And as for Enola herself, she's far more competent in the movie than in the book, where she curses her own purported ignorance and lack of worldliness. While the book is still a delightful read, fans of the movie might find the differences somewhat disappointing, as I believe this is a case where the movie is more entertaining and fully realized than the book. (As a side note, the plot is slightly different between the two, so if you've seen the movie, don't be surprised that the book is a bit different.)
Overall, The Case of the Missing Marquess is a quick and fun read, but I suspect I would have enjoyed it more if my opinion hadn't already been colored by the movie.