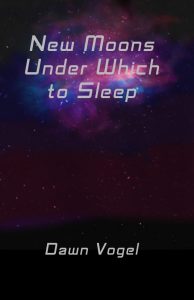 "Earworm" was a story I wrote for a very specific anthology call that involved "space opera" in a more literal sense than the genre typically means. So my main character was the alien beatbox for an operatic vocal group.
As I've talked about before, the inspiration for the story was related to K-pop videos, even though the end result may make that less apparent. But they were just the right level of off-the-wall to get ideas churning in my mind!
Also, I got to open the story with an amazing line:
We were somewhere around 2167 on the edge of the Zaria System when the earworm began to take hold.
If this sounds like your jam (no pun intended), check out "Earworm" in New Moons Under Which to Sleep, my sci-fi short story and poetry collection!