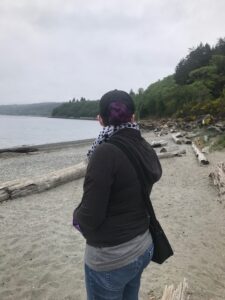 By the numbers:
Stories out at the beginning of the month: 127
Acceptances received: 5
Rejections received: 54 (+2)
Stories withdrawn: 2
Resubmissions: 87
New Submissions: 3
Stories out at the end of the month: 146
December was a pretty good month for acceptances this year. I sold a short story, a piece of microfiction, a reprint flash fiction story, and two poems. All of those will be coming out in 2022. I also finished three new pieces: two short stories and a microfiction piece.
Out of my December goals, I proofread the book that was on my plate; got creepy river and the contest story drafted, polished, and submitted, and worked on some other writing tasks. I didn't quite write as much as I hoped I would, as holiday travel took a lot more out of me than I'd expected. But overall, it was a pretty good month, capping off the year.
In January, I plan to:
Write a new outline for an older draft novel of mine, and begin rewriting the novel to the new outline.
Finish the draft of refugees and most of the draft of spritelings
Write three flash pieces for a contest
Write one microfiction for a contest (which may overlap with the above, but will probably be separate.
Write two book reviews
Not too bad!
~
And now, the 2021 recap!
My numbers for 2021:
Stories out at the end of 2020: 216
New Stories Written: 78 (54 stories, 24 poems)
Old Stories Making the Rounds: 153
Total Submissions: 1194
Total Rejections: 1133 (89)
Total Acceptances: 34 (+8) (-1)
Stories out at the end of 2021: 146
Last year, I crept over the 1,000 submissions threshold. This year, my goal was 1,200 total submissions, roughly 100 per month, and I fell just shy of that. I'm still quite pleased with the numbers I put up, though, because almost 1,200 is a LOT.
My acceptances this year were almost double that of last year. I sold 8 stories that I'd submitted in 2020, and I sold 34 MORE stories that I submitted in 2021. One of those stories was to a market that closed before my story was published, but that just means it came back to me and could go back out into the world.
I wrote slightly fewer new pieces in 2021 than I did in 2020, but I wrote nearly double the number of words in my 2021 pieces compared to 2020. This was largely because I wrote fewer poems this year, and more longer stories. This was still counterbalanced by a lot of drabbles, microfiction, and small flash stories (251-500 words), but I also had two short stories that clocked in at or above 5,000 words, which is on the longer side for me.
Looking at my 2021 goals:
I worked on a couple of different novel projects. One was one of the two YA novels I planned to write, but I didn't feel like it was going as I'd hoped. I also wrote most of a sci-fi novel for NaNoWriMo, but also realized it wasn't going as I'd hoped, and I figured out how to rewrite it before stopping the project. Writing novels remains something that I want to do, but I often have trouble actually doing.
Write 18 short stories, 8 flash fiction, and 4 poems
I exceeded this goal, with only 17 short stories (but that's darn close!), 37 flash fiction, and 24 poems. Given the challenges of my year, including surgery and a couple of illnesses, that's pretty impressive!
I reviewed 17 books, so again, pretty close. And I've read three more books that I haven't reviewed yet, thanks to much time at airports and on planes in December.
Self-publish novel, novella, and 3 collections
Promise Me Nothing came out in February, Barren in April, Old Legends and New Fables in May, Intercity Illusions in June, and New Moons Under which to Sleep in July. I also helped put together a Cobalt City anthology, Cobalt City Dragonstorm, which came out in September!