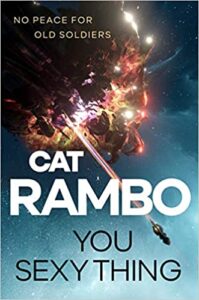 You Sexy Thing by Cat Rambo (Tor Books, 2021) is a action-packed sci-fi novel of found family, peril, and cooking, blended together in a remarkable and entertaining way.
Niko and her restaurant staff are military veterans who managed to break away from their old lives by convincing the military that Niko is a culinary artist. Her real artistry is in keeping the ragtag bunch of former soldiers working together as they try to get her space station restaurant off the ground. But just when things look like they're heading for success, disaster strikes, and the staff find themselves hurtling toward a horrible destination, and then toward a worse one.
One of the interesting things in this novel is the use of third person omniscient point of view, which allows the narrative to flow from one character to another as if a camera that could read their minds was moving amongst them. While it may take a little bit of getting used to, Rambo uses the technique to excellent effect, allowing for "head hopping" with intent.
You Sexy Thing is described as a mashup of Farscape and The Great British Bake-Off, and that's an apt comparison. Not quite as zany as Space Opera by Cat Valente, there's still plenty of humor blended into the mix of You Sexy Thing, and it's likely to appeal to fans of sci-fi, cooking, and a whole lot of weirdness!
The publisher provided me with an advance copy of this novel in exchange for review consideration.