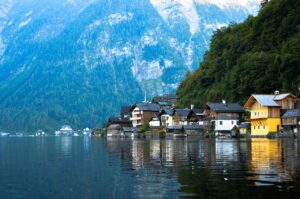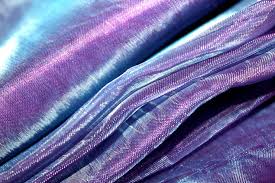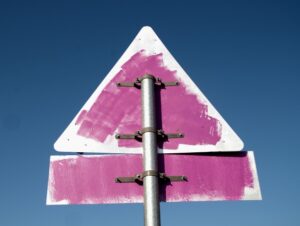 This week has three images on a theme of blues and purples.
The first photograph depicts a collection of brightly colored houses, bounded by a body of water and two hillsides, both of which are covered in trees. The hillside upon which the houses rest has a consistent pine forest look, while the trees on the other hillside are less clear. There is also some snow or bare rock on the second hillside.
The second image is a gently folded piece of fabric that is shimmery with blues and purples. The fabric is very lightweight, possibly somewhat translucent.
The third image is the back of a pair of road signs that have been painted sloppily with purple paint. The top sign is a triangle, and the bottom sign is a rectangle that matches the triangle's width, but is not very tall. The sky beyond the sign is a deep blue, lightening toward the bottom of the photograph.