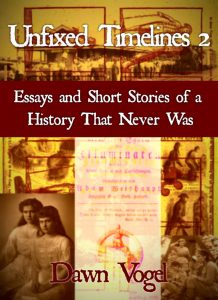 My story "Parcel Post" was born out of a random historical "fact" and a public domain children's book.
The "fact" was that children could be mailed in the early twentieth century. It's not entirely true, but it's still quite evocative. (I talked more about that here, and also in the essay in Unfixed Timelines 2 accompanying this story.)
The public domain children's book was E. Nesbit's 1907 book, The Enchanted Castle. I specifically looked for a book that was in the public domain, so that using some elements from it would not run afoul of copyright laws. I also wanted a book that my main character could plausibly have read about a decade after the book was published. Finding a beloved children's book was an added bonus.
This story and the background to it both delight me, and I hope that my readers will love it too!