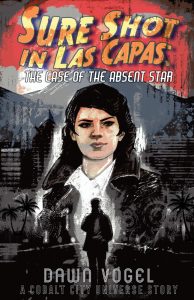 There are two genres at the top of my list for how many books I've published in them. One of those two is superhero books! While most of my superhero books are collections of short stories, that just gives you a lot more heroes to enjoy!
Heroes of Necessity is my collection of unlikely hero stories. This collection has four stories of women with powers, but only one of them would consider herself a superhero. And even she was more of a sidekick than a big name superhero in her town. But in the case of each of these women, they see a problem that needs to be solved and figure out how to do just that!
Sparx and Arrows is my first collection of Cobalt City stories. The stories in this collection involve Kara Sparx and three different iterations of the Huntsman, including the two known instances in which a woman wore the mantle of the Huntsman. Two of the Huntsman stories take place in historical periods (the late nineteenth century and shortly after the end of World War II), while the other three stories in the collection are modern.
Coast to Coast Stars is my second collection of Cobalt City stories, which also introduces the sister city of Cerulean City, California. These stories feature reluctant hero Gray Dawn in the modern era, along with a flashback story to when she was just pop diva Cassidy Sweet. The other stories involve several of the Cerulean City heroes and villains introduced in the Cassidy Sweet story!
Finally, I have one superhero novella, Sure Shot in Las Capas: The Case of the Absent Star. This also takes place in Cerulean City, but it features one of the female iterations of the Huntsman from Sparx and Arrows working as a private investigator in Las Capas, a neighborhood of Cerulean City. I've got additional adventures planned for this character and setting in the future, too!
All of my superhero books are teen appropriate, with light language use, but fairly mild violence and no explicit sexual situations. All but Heroes of Necessity are available in print or ebook, while Heroes of Necessity is only in ebook format.