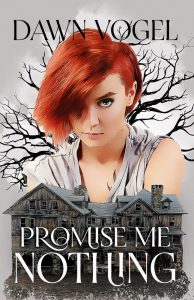 If you prefer your fiction contemporary but with supernatural elements, I've got a few urban fantasy books that might fit the bill!
Volatile Figments is a collection of slightly darker contemporary fantasy short stories. Each of the stories has a female protagonist dealing with something unusual and sinister.
Cross and Circle is a novella-length book that's only just urban fantasy. There's just enough odd stuff going on that it fits into that category, though otherwise, it reads a bit like a short mystery. It also features a female protagonist (this is a theme here).
Promise Me Nothing is a young adult urban fantasy novel, with all sorts of supernatural creatures making the main character's life more difficult. But Briar is a tough cookie, and she can handle it. With a little help from her friends.
Finally, Intercity Illusions is my latest collection of urban fantasy stories (along with a bit of poetry). This one ranges in topics and themes, but it's got a slightly more humorous bent to some of the stories, particularly in comparison with Volatile Figments.
Promise Me Nothing and Intercity Illusions are both available in ebook or print, while the other two books are only available as ebooks. (Cross and Circle can also be read online with a subscription on Channillo.) All of the books are appropriate for teenagers and older, though Volatile Figments has some more frightening elements, particularly in the stories "After School Special" and "Justice is Blind."