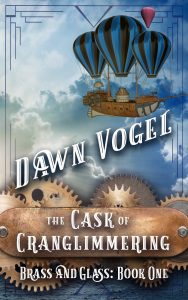 Steampunk is one of my big loves, with it being the genre for my published trilogy and one other book.
Brass and Glass: The Cask of Cranglimmering started out as a short story. Then it became a novel. Then, when asked if I had more set in this world, it became a trilogy, with Brass and Glass 2: The Long-Cursed Map and Brass and Glass 3: The Boiling Sea rounding it out. The trilogy has airship pirates, an overbearing government, legendary whiskey, automatons, mad scientists, and floating cities, among other things. It's been described as Firefly, but on an airship. (And without the whitewashing of that series.)
If you'd prefer your steampunk for younger readers, The Trouble with the Tick-Tock Tabby is my middle grade steampunk detective book, featuring girl detectives Chrysanthemum and Marigold Marsh. This book started with a short story also, but in this case, the book is simply a bigger adventure than the ones told in the Marsh sisters stories. (Later this fall, the other Marsh sisters stories will all be available in one place. Stay tuned!)
All of my steampunk books are available in ebook and print formats!