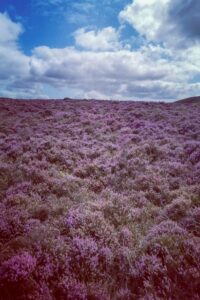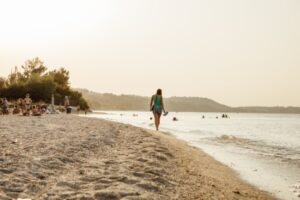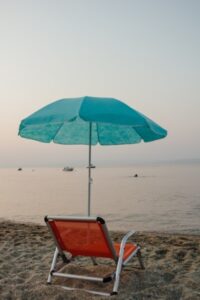 For this week's Fun for Friday, I've got a handful of summer photographs, all of which have a bit of a vintage look to them.
The first image is a field of very small lavender flowers that appear to be on an uphill slope. Above, the sky is blue with puffy white clouds.
The second image is a figure walking along the edge of a beach, with sand to the left and water to the right. In the distance are trees and some hills. The entire image is somewhat washed out, as though it's a slightly cloudy day, a very hot day, or approaching sunset.
The third image is a metal-framed beach chair with orange plastic or fabric for the seat and a bright teal umbrella. Both are situated on a sandy beach with water beyond, and there are some boats in the distance. This image, too, is mostly washed out aside from the vibrant color on the chair and umbrella.