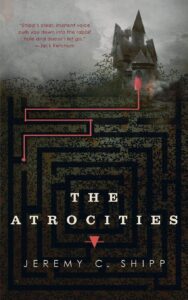 The Atrocities by Jeremy C. Shipp (tor.com, 2018) blends a modern setting with a spooky Gothic tale. In turns, it maintains creeping dread and sustains quick action.
Danna Valdez has just taken a position to educate the young daughter of a wealthy and somewhat eccentric family. But when she arrives at their unusually appointed estate, she finds that details have been omitted about her young charge. There's something mysterious going on, and Danna is determined to get to the bottom of it for her own well-being and that of her pupil.
Everything about The Atrocities blends together to make it a page turner that you won't want to put down. The vivid descriptions of the artwork around the mansion, including in the hedge maze outside, brings every bit of it to horrifying life. And the pacing makes you feel the pressure Danna is undergoing as she tries to solve the mystery even while doubting what she sees and hears.
The Atrocities is a powerfully creepy book, with just enough about the weird house to make you feel like you've seen something like this before while recognizing that no, you've never seen anything like THIS house. If you're a fan of the sort of "fish out of water" stories of young women going to Gothic mansions and discovering that not all is idyllic, you'll love The Atrocities, with its shades of Crimson Peak and The Others.