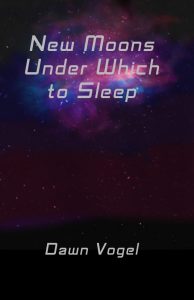 Today's the day! My first ever book of science fiction stories, New Moons Under Which to Sleep, is out!
This collection is an interesting one, as I don't typically consider myself a sci-fi author. However, every story in this collection has been previously published! So I guess maybe I've written a few sci-fi stories after all!
What's new to this collection is the poetry, including the poem from which the title of this collection comes. It's quite a long poem, but the very last line of it just struck me as the perfect title for a collection like this one!
Unusual spacecraft, aliens among us, and finding new ways to survive. New Moons Under Which to Sleep is a collection of science-fiction short stories, flash fiction, and poetry exploring the future of life on Earth, in space, and on other planets and moons. Journey with characters young and old as they find their proper places in their universes.
New Moons Under Which to Sleep is available in print and ebook formats!