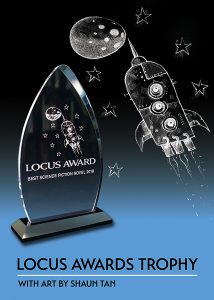 The Locus Awards events were online this year the last weekend in June, and while I didn't participate in a whole lot, I watched a couple of panels that I thought were interesting.
One was "Speculative Mood: Making Short Fiction Shine." The panel wound up being different than I expected from the title, but it featured four editors (Neil Clarke, Oghenechovwe Donald Ekpeki, Zelda Knight, and dave ring), and they talked about what they liked and didn't like when it came to short fiction submissions. I guess, when it comes down to it, that the panel really emphasized the fact that it can be just a matter of personal taste when it comes to short fiction that one editor wants to buy even after others have passed it up.
The other panel I watched was "Narratives in Action: Plot Traditions and the Best Ways to Break Them," with C.L. Polk, Jeffrey Ford, Sarah Gailey, and Tochi Onyebuchi. This panel was a rollicking one with a lot of laughs, but it also covered things like whether some aspects of stories are plot traditions or just elements that have been used frequently enough to feel like traditions. Overall, the theme was to be conscious of the traditions, especially if you're choosing to fly in their face.
I'm hopeful that the next Locus Awards will be in person, and since they're local to me, I'll hope to attend them next summer!