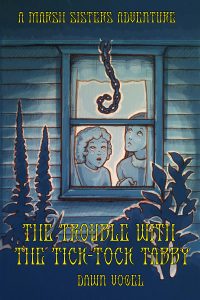 If you enjoyed my middle grade detective mystery, The Trouble with the Tick-Tock Tabby, you're going to enjoy the book I'm putting out this fall: Chrysanthemum and Marigold Marsh, Girl Detectives. This book will collect three Marsh sisters stories:
"The Recondite Riddle of the Rose Rogue" (their first appearance, and the first story I ever published)
"The Magnificent Matter of the Mischievous Monkey" (a follow-up short adventure that appeared in  Young Explorer's Adventure Guide, vol. 5)
"The Wearisome Worry of the Wily Waif" (unpublished)
These three short stories send the Marsh sisters on exciting cases and interesting adventures! I'll have a cover to share as the release date approaches, but I couldn't wait to announce that this collection will be ready for ALL your winter gift-giving needs!