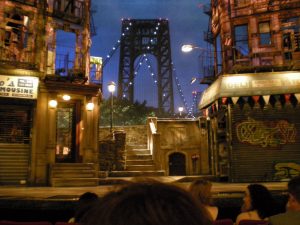 We saw the stage production of In the Heights at the height of Hamilton popularity, when it was nearly impossible to get a ticket for the latter. We decided that the ticket prices for In the Heights were much better, so we went to see a musical we knew very little about, aside from the fact that Lin-Manuel Miranda had written it before he wrote Hamilton.
As it turned out, we quite enjoyed it. So when they announced that it would be turned into a movie, I was excited! A lot of the big Broadway pieces I know (Rent, Hedwig and the Angry Inch) are because they've turned them into movies. The early trailers for In the Heights also made it pretty clear that they were updating the plot to increase its relevance for today.
And the movie was wonderful. It lost a lot of the intimacy of the tiny street corner portrayed on stage and the relatively smaller cast (there was certainly no 400-person aquatic dance number on stage). They changed up when some of the plot elements hit. But the plot updates, and the overall feel of the musical about a small community tied to a geographic location, were perfect.
There's been some flack for the lack of Afro-Caribbean performers in the movie, and it's a valid criticism. But the performers who are there are phenomenal. (I did not know Jimmy Smits could sing!) And I hope this movie will help to usher in a new era of big budget Broadway musicals getting movie adaptations!