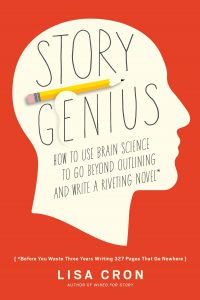 I recently read and recommended Wired for Story by Lisa Cron, and now I'm back to talk about another of her books, Story Genius.
Whereas I found Wired for Story to be something that I could apply to both novel and shorter writing, Story Genius is 100 percent a book for people who want to write a novel. It's also in the category of a book I'd suggest for experienced writers, not new ones. It retreads some of the same ground as Wired for Story, but Story Genius presents its take-away points as writing exercises to help you develop the characters and ultimately plot of your novel. And there are a lot of them–more than 30 "What to Do" captions that give you instructions on the thing you should write, preparatory to writing your novel. There's a figure of roughly 20,000 words bandied about, and I believe that if you complete all of the exercises, then yeah, you could easily have written that many words before you start writing your novel.
There's an implication that the words you write in advance will find their way into your novel, but I'm a little skeptical about the idea that all of the pre-writing would be included in a finished novel. I think there are a lot of good ideas contained within the "What to Do" headers, but I think that I would have a difficult time doing that much pre-writing that could then be reused as words for the novel itself. Still, I think it's worth at least considering the various exercises, even if you don't write full-blown scenes to go with them. Just using them as an impetus to jot down some notes might be helpful as well.
I found the example novel that an author works through using the system here to be a little less helpful than the examples in Wired for Story, in part because the novel that was being created was very much not a novel I had any interest in. This, too, makes me wonder if some of the advice might be less useful for genre writing, each of which have their own tropes and expectations that don't necessarily match what's presented here.
So overall, while I do think there's useful stuff to glean from Story Genius, I think there's also a LOT to wade through here, making this book not for the faint of heart. My plan is to go back through all three of the craft books I've read recently (the third being Save the Cat! Writes a Novel) and picking out the pieces of each system that resonate best with me to try to put together my own pre-writing checklist or group of exercises that will work for what I want to do when I'm working on a novel. In the meantime, though, I'm letting all of the various pieces simmer in my brain, in the hopes that when I sit down with these books again, everything can gel into something solid and useful to me.