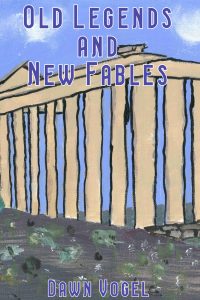 Continuing on with my many publications in 2021, today I'm both revealing the cover for Old Legends and New Fables, and letting you know that it's available for pre-order!
This collection primarily collects poetry related to the mythology and other stories of a multitude of cultures, with a handful of stories.
The gods of old have become stories, as though they no longer involve themselves with the mortal realm. But in this collection of short stories and poetry, the myths of the ancient world, from Greece and Italy to Egypt and Assyria, seep through to the modern era, breathing new life into old legends and creating new fables. Along the way, these tales make stops in the lands of the Norse and Celts, and travel outside of Europe and Africa to Japan and the Americas.
Old Legends and New Fables comes out in e-book only on May 11, 2021!