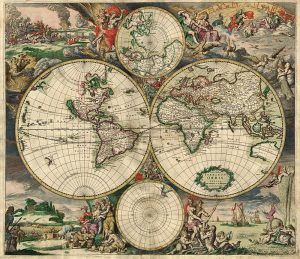 My current work in progress involves a couple of different maps of the same place, one including significantly more detail than the other. I've got the map pictured in my head, but that's the only place it exists right now.
This is a weird thing that I seem to do when I'm writing something that requires a map. I don't actually put it on paper right away. In the drafting stage of things, this allows me to make changes to the map if they're needed for the narrative. But when they're part of a series of books, they suddenly become much more solid once the first book in a series is published, as now locations have fixed positions, rather than the amorphous map that existed previously.
I'm not always good about drawing up my maps after the first book in a series, either. Embarrassingly, I didn't draw the map for the Brass and Glass series until I was working on the third book, when I finally needed to be able to picture the map as a globe, rather than a flat object. Such is the peril of a world that needs the edges of the map to meet.
In my current WIP, I'm only dealing with one large landmass, so it still works to have the map solely in my head, for the time being. But I think that in this case, I should probably make a draft map sooner rather than later, especially if this book precedes the series that I think it will. Anyway, a draft map can still be tweaked, at least up until the book is published, when it definitely makes a difference what places share a border, and which do not.