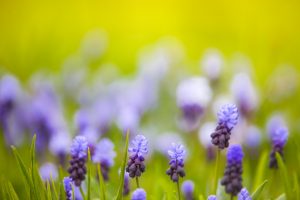 It's nearly April, and at least in the Northern Hemisphere, it's springtime (for whatever that means for a given latitude)! The words for this month are a mix of springtime words and other, random words, but hopefully the multiple meanings of some of these words will provide an interesting combination!
I've also added a photograph of small purple muscari flowers, in focus in the foreground and blurry in the background, on a bright yellow-green background. The color pop here is delightful and very spring-like!
Check back on the last Friday of each month (or occasionally the first day of a new month, when that falls on a Friday) for my History That Never Was writing prompts!
| | | | |
| --- | --- | --- | --- |
| Day | Word 1 | Word 2 | Word 3 |
| 1 | Bunny | Large | Magical |
| 2 | Coil | Sport | Place |
| 3 | Grateful | Sneeze | Morning |
| 4 | Blossom | Friendship | Blush |
| 5 | Primrose | Tweet | Stop |
| 6 | Thing | Fair | Petals |
| 7 | Diamond | Feelings | Glimmer |
| 8 | Small | Foul | Common |
| 9 | Five | Hooves | Verdant |
| 10 | Born | Visit | Horn |
| 11 | Hibernal | Wind | Fame |
| 12 | Perfection | Lips | Soft |
| 13 | Renew | Decide | Promise |
| 14 | Butterfly | Basket | Kindness |
| 15 | Always | Twigs | Muted |
| 16 | Water | Words | Truth |
| 17 | Lived | Rainbow | Funny |
| 18 | Image | Wriggle | Fresh |
| 19 | Obstinate | Sing | Lavender |
| 20 | Child | Torn | Prediction |
| 21 | Care | Spout | Bathe |
| 22 | Soil | Last | Seasonal |
| 23 | Crack | Growth | Ease |
| 24 | Motto | Plot | Fragrant |
| 25 | Help | Happy | Robin |
| 26 | Golden | Flourish | Mess |
| 27 | Compliment | Foliage | Parasol |
| 28 | Bright | Location | Breeze |
| 29 | Den | Sunlight | Moments |
| 30 | Talk | Melt | Florid |