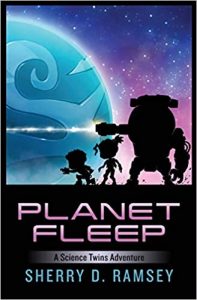 Sherry D. Ramsey's Planet Fleep (2018) is written for kids between the ages of 9 and 12, but it's an enjoyable book for older readers as well! With action, adventure, and science, it's a brief but fun book about family and exploring a potentially dangerous planet with only wits and a teacher robot to protect the protagonists!
Rudi and Trudy aren't twins, but everyone, including their parents, treat them as though they are, going as far as calling them the "Science Twins." When their family is moving to a new planet, their ship crash lands in pieces on an unexplored planet. The twins are separated from their parents and unable to contact them. But the teacher robot activates and helps guide the twins through exploring the planet, meeting the Fleeps (a native animal species), and finding their parents.
The story is fast-paced and interesting throughout, with sufficient peril to keep things exciting, but not so much to frighten younger readers badly. There are concerns over the state of Rudi and Trudy's parents throughout much of the book, but the twins do their best to keep each others' spirits up.
If you like reading books about clever kids, slightly snarky robots, and science and exploration, you'll likely enjoy Planet Fleep. And on a more personal note, I gave a copy of this book to one of my nephews, who is seven, for a holiday gift, and he devoured it, finding the story fascinating enough that he gave up the opportunity to play outside during a break from his online schooling so he could read some more. If that's not high praise for Planet Fleep, I don't know what else can be said!