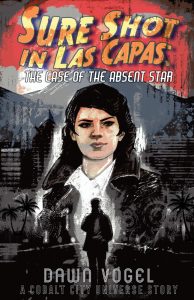 When I was writing Sure Shot in Las Capas, I knew the book was going to start with the scene in Sarah and Daisy's kitchen, as Sarah was washing the dinner dishes. And I had an image in my mind of what her view out the window would look like. It was only when I took a step back from that sink and window that I realized that Sarah and Daisy's kitchen looked a lot like the kitchen in my house in Illinois, but with the floorplan flipped and a few items in different locations (that house had a double oven and an electric flattop stove on an island, both of which were annoying and didn't work in a 1950s kitchen).
After realizing that the kitchen was my old kitchen, it occurred to me that the house as a whole, built in the 1940s, was a great floorplan for Sarah and Daisy's house in Las Capas. So the living room, too, became my old living room, flipped to fit on the flipped kitchen. And Sarah's office became the spare first floor bedroom. (My house had a second story and a basement, and it's never clear if Sarah and Daisy have either of those, but I'm inclined to think they don't, as a one-story version of the house fits my overall suburb image a little better.)
Even though my old house was in the Midwest, I've seen a handful of very similar houses in TV and movies, making me think the floorplan may have been more widely used. And why not? It was a simple floorplan of two bedrooms, bathroom, living room, and eat-in kitchen. It's maybe 700 square feet, but it's just the right size for a couple with no children.
Having the house in mind as I was writing the scenes there made it a lot easier to describe the setting for those scenes, even if I needed to peel a few decades of changes off the way the house looked when I lived there in the early 2000s. And having that one aspect squared away meant that was one less thing I had to create as I wrote Sure Shot in Las Capas!