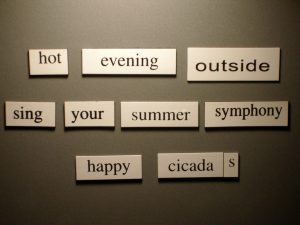 Magnetic Poetry certainly isn't a standard form of poetry, but it's a fun way to play at writing poetry with possibly very cool results.
I've had a variety of magnetic poetry sets over the years, but I can't stick them to my fridge right now, for fear that my cats will remove and literally consume my poems. So I'm super happy that there's a section on the Magnetic Poetry website to play with some of their collections online!
The extra nice thing about this form of poetry is that it has a tactile aspect to it, which can sometimes lead to using different bits of your brain to write this style of poem. And the website does a pretty nice job of simulating that with drag and drop for the words. You can also save your poetry as an image that includes that layout. Or, like me, you can transcribe it into a word document for more standard poetry submissions!