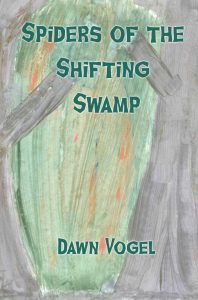 This year, I got back on my string of book releases, with five new books out this year. Three of them were collections, one was a children's book, and one was a novella. This is a tie with 2017 for number of new books out, so I'm pretty pleased!
In June, I released Coast to Coast Stars, a collection of Cerulean City/Cobalt City stories.
August's release was the results of my completion of Mermay in 2020, What If I'm a Merfolk, a collection of poetry and short stories about merfolk, including 23 poems and 3 stories.
In September, I published my second collection of alternate history stories accompanied by essays on the real history, Unfixed Timelines 2.
Spiders of the Shifting Swamp in October was a major accomplishment for me, because it's my first ever children's book, and the first book I illustrated as well as wrote. It's also only available in print thus far, because of the artwork, but I'm still looking into good options for ebook!
Finally, November saw the publication of my first lengthier Cobalt City/Cerulean City work, Sure Shot in Las Capas: The Case of the Absent Star. It's superheroes, mystery, noir/pulp, and fantastical history all in one, and I'm looking forward to playing more with these characters and this setting!