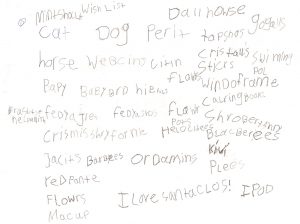 It's the time of the year when kids are thinking about the holiday gifts they'd like to receive from Santa Claus, St. Nicholas, Father Christmas, or any of the other names their holiday gift giver might go by (including members of their family).
For a fun twist on Santa's list, here are a handful of unusual story ideas:
Tell a story in the form of a list to Santa Claus.
Tell a story that requests gifts, but not in a list format.
Tell a story about Santa's naughty and nice list, and what happens to those on one list or the other.
If you can decipher the list to that I've included with this post, tell a story in which a kid gets the things on this list. *
Or tell a story in which the items on this list (*) are horribly misinterpreted by the reader, leading to weird purchases for the gifts.
(* If you can't read the items on the list, Googling for "christmas list" will turn up other ones that might be equally charming and/or confusing.)