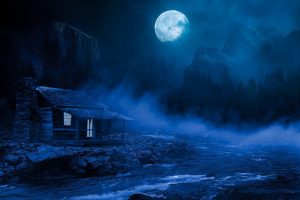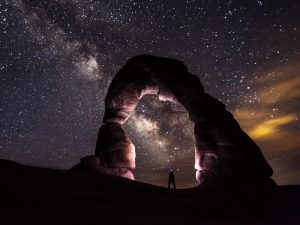 This week's images might lend themselves well to a dark fantasy story, but perhaps you'll see them in a different light!
The first image is a moonlit night with a misty forest backdrop, and a wooden cabin with cobblestone chimney on the edge of a body of water. There is one light on in the cabin.
The second image is a feminine-presenting person with a wood or horn headdress draped in tattered fabric, wearing a midriff baring top and a long skirt. The person is in a green field with a bare branch at their feet, a bare tree behind them and a gray cloudy sky beyond that. Their left hand appears to have a blue or silver glow in in.
The third image is a starry sky backdrop with a natural stone arch lit from within, and an unidentifiable figure standing in the archway.