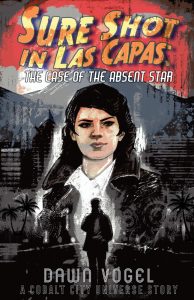 Today's the day! Sure Shot in Las Capas: The Case of the Absent Star is out! And while I probably couldn't have picked a worse day to launch it into the world, my hope is that folks can take some solace in a good read while they await American election results.
An explosion in the bay, a prominent film actor believed dead, and his brother missing. Sarah Castile, former superhero turned private investigator, is on the case!
When Clarisse Glenn hires Sarah Castile to investigate the death of one of her brothers and the disappearance of the other, Sarah is ready to hit the streets to get to the bottom of the mystery. But there's more to the situation than meets the eye, and she's soon dealing with film studio consultants, the mob, and rumors of outside influences. She'll need to leverage all of her connections and use every trick in her playbook to figure out what's really going on!
If you like the 1950s, Hollywood, superheroes, mysteries, noir, pulp, queer representation, and strong female protagonists, Sure Shot in Las Capas: The Case of the Absent Star has all of these things, and more!