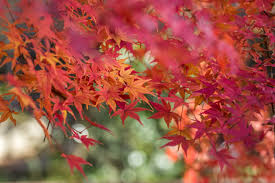 Here comes November, with autumn and winter temperatures and holidays in their wake in most of North America!
This month's prompts reflect the late autumn/early winter nature of November, and also include some holiday-related words and also some random words. I've also included a lovely Japanese maple photo that might give you some ideas for adding color to your stories or poems.
If you're doing NaNoWriMo in November, you could use the words to push you forward when you run out of steam, by working to include one or more of the words for that day in what you're writing. Some may make less sense than others, but you can always cut them later if they really don't work!
Check back on the last Friday of each month (or occasionally the first day of a new month, when that falls on a Friday) for my History That Never Was writing prompts!
| | | | |
| --- | --- | --- | --- |
| Day | Word 1 | Word 2 | Word 3 |
| 1 | Past | Arrive | Rust |
| 2 | Flight | Spark | Mood |
| 3 | Season | First | Oak |
| 4 | Plenty | Gift | Frost |
| 5 | Cornfield | Poison | Spirit |
| 6 | Surprise | Arena | Elect |
| 7 | Sport | Fortune | Stagecoach |
| 8 | Winter | Bounty | Goal |
| 9 | Share | Stash | Slippers |
| 10 | Fall | Reason | Perfect |
| 11 | New | Veteran | Impossible |
| 12 | Hope | Neighbor | Squash |
| 13 | Comb | Better | Bartender |
| 14 | Imagine | Festival | Gather |
| 15 | Laughter | Golden | Gobble |
| 16 | History | Protector | Silly |
| 17 | Lost | Pom-Pons | Guest |
| 18 | Backstage | Book | Crisp |
| 19 | Travel | Volcano | Ritual |
| 20 | Change | Baking | Collapse |
| 21 | Service | Make | Stung |
| 22 | Praise | Matchbook | Certainty |
| 23 | Dessert | Consume | Voiceless |
| 24 | Conqueror | Desert | Arrows |
| 25 | Break | Wander | Discuss |
| 26 | Rainy | Sensitive | Chill |
| 27 | Saloon | Favorite | Stove |
| 28 | Fall | Him | Well |
| 29 | Capture | Twilight | Peak |
| 30 | Dead | Fireplace | Beans |