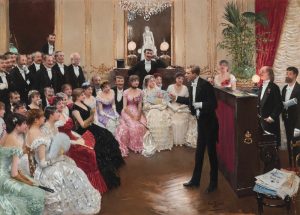 Catherine Schaff-Stump is hosting some of my articles about the real history behind my stories from Unfixed Timelines at her Fantastic History blog. The fourth post, "The Veiled Prophet," is up now!
One year at Christmas, while flipping through a book about St. Louis at my mom's house with Jeremy, Mom and I had to pause to explain the Veiled Prophet to him. It's a uniquely St. Louis thing, though pageants of a similar nature happened all over the United States, particularly in the nineteenth century. But thinking about how weird and slightly creepy the Veiled Prophet sounded, I started concocting a spooky story involving the Veiled Prophet and the King in Yellow from the Lovecraft mythos. "Tarnish" was the result of that, tying together the year in which a "Queen of Love and Beauty" was not crowned due to a visit by Grover Cleveland with my spooky idea.
You can read more about the Veiled Prophet and nineteenth-century pageants in my post at Fantastic History, and you can read the story in Unfixed Timelines!