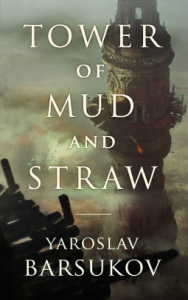 Tower of Mud and Straw by Yaroslav Barsukov (Metaphorosis Publishing, 2021) is a beautiful blend of steampunk and fantasy together in a novella that both asks and answers many questions.
The main character, Shea Ashcroft, is a diplomat who made a choice to save lives that resulted in him being "politely" exiled, sent away from the seat of power with a new job. While he's able to adapt to the new assignment, he also has people trying to kill him, while other believe he's being vetted for leadership. He stumbles over friendships, romance, and his memories, all of which combine to make his life a lot more complicated than he would like.
There's a lot going on in this novella, with political intrigue, otherworldly technology, and the difficult memories of Shea's past. While the story answers a number of the questions a reader might have, it also leaves some details to the imagination. All the while, it's beautifully written and filled with lovely characterizations for not only Shea but also those around him. Fans of political intrigue will enjoy this book immensely.
Tower of Mud and Straw is currently being serialized at Metamorphosis Magazine, with the first installment available here. Future installments will appear on the last Friday of each month through December. It's also provided in audio format, narrated by Miltos Yerolemou (Syrio Forel, Arya Stark's "dancing master" in Game of Thrones). But if you'd prefer to read the whole thing when it's all available, you'll have to wait until February of next year, when Metaphorosis Publishing will put together the entire novella.
The author provided me with an advance copy in exchange for review consideration.