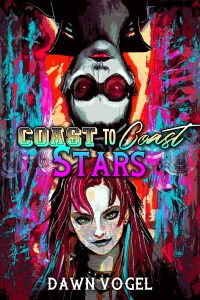 When I first developed the character of Gray Dawn / Cassidy Sweet, I had some loose ideas about her history as a pop star. Though the peak of her career was later than the peak of the late 80s and early 90s pop stars, once of the iconic things that I thought was essential for her was a mall tour. A mall tour that 20-something Cassidy Sweet very much did not want to be on.
That was the basis for "Happily Never After," where Cassidy got to meet some superheroes her age, one of whom helped her realize that maybe she did have some powers, despite being certain she was only a talented singer.
The other basis for the story was, honestly, the title, which I had prior to writing the story, from a list of a song-writing challenge titles. And yes, I wrote a song to match the title, too. When I finally get good enough at playing my new ukulele to play the song, I'll record it!
If you want to read "Happily Never After" before you hear the song, you can find it in Coast to Coast Stars!