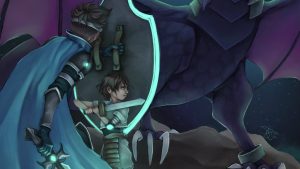 There are a couple of Kickstarters for anthologies that I think will be super cool. If you agree, you can still back both or either of these Kickstarters, which are close to their goals but not quite there, as of this writing.
Even though I'm not a parent, I completely love the idea of Don't Touch That: An Anthology of Parenthood in SFF. Family relationships in SFF are totally my jam, though I most often write the sibling stories, rather than the parents and children stories. I think this anthology will be a lot of fun to read for both parents and non-parents alike! Their Kickstarter ends August 21st.
Rebuilding Tomorrow is the other anthology I'm interested in. It's a sequel to Defying Doomsday (which I have not read–too many books, too little time!), with some of the stories being literal sequels, and others fitting the theme for the new anthology. I'm always a fan of positive post-apocalyptic stories, so I'm excited to see this one! Their Kickstarter ends August 31st.