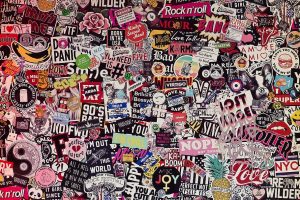 I am easily motivated by cute things, and one of my favorite cute things is stickers. I was in grade school through most of the 80s, which meant I was just the right age for the sticker craze. And it occurred to me, as an adult, that now I have my own money and I can buy stickers for myself. So I have.
I mostly use my stickers as motivation combined with a record of what I've done. In my planner book, if I get a thing done, I add a sticker. When I sell a story, I add a sticker. Sometimes, I have special stickers for special themes–a lot of my "sold a story" stickers have the word Yay on them, for example. When I'm doing a month-long writing challenge, I pull out a sheet of tiny stickers and use them to mark the days when I've done the challenge.
I'd have the stickers either way, but there's something about actually using the stickers that works as a great form of motivation for me. Then I can look back at my planner book and see whether a week was productive or not, just based on the number of stickers I've collected that week!