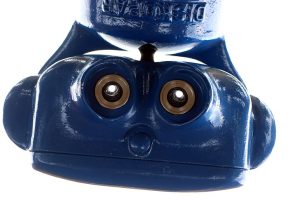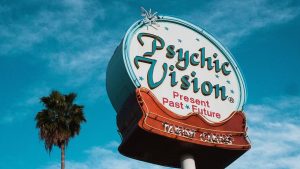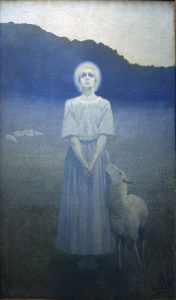 Today's image prompts are all inspired by the word "vision."
The first image is of a blue "telescope" of the sort that are often found near scenic viewpoints, where you can insert coins to have a more binocular view of a distant point. But in this case, the "telescope" is upside down in the image, making it look more like a wide-eyed robot than what it actually is.
The second image features a blue sky with only wispy clouds, the top of a palm tree, and a roadside sign for "Psychic Vision." The sign is metal with neon and lights, shaped like a crystal ball.
The final image is "Vision de sainte Genevieve" by Alphonse Osbert, a French painter. It features mountains or trees in the background, with a woman dressed in a white shirt and blue long skirt, her head faintly glowing (possibly surrounded by a halo), with a sheep at her side.